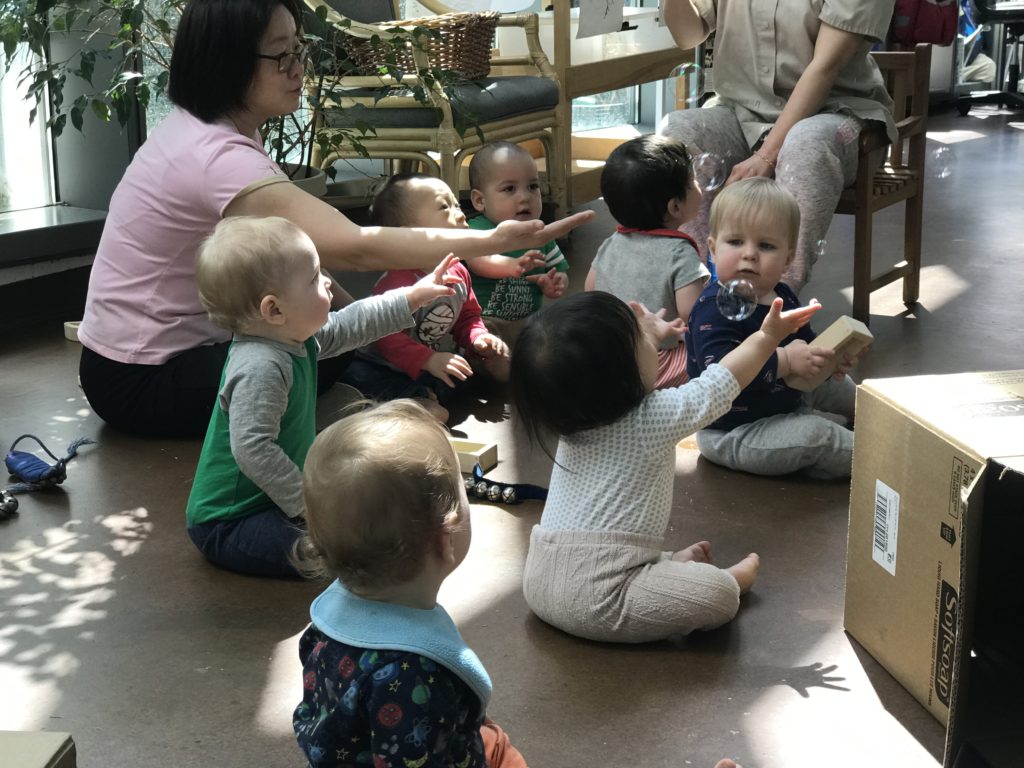 Children: Asa, Avery, Cyrus, Emma, Eva, Francisco, Hugh, Ian, Jacob, James, Liam and Persephone
Teacher: Alina, Azan, Marilyn, Rita and Vicki
Background
The children in the Babbling Brook Classroom are the youngest classroom in the C5 Children's School. The children's learning group is known as the "Caterpillars." The age group ranges in age from six months to eleven months old. The children are walking, standing, pulling up, crawling, creeping, and/or beginning to become mobile. They are active participants in learning and are very focused observers of their peers, the environment, and everything in it. They are also definitely forming many personal interests.
Our Caterpillar friends were interested in objects that made a sound. Educators set up several different areas that included a Music Together area for children to explore with musical instruments. The area soon became the space many children went to grasp shakers, tambourines, and small drums.
It sparked our children's interest in music, sounds, and dance leading to our exploration of Music Together books, instruments, and music CDs.
Project Exploration
Parent-Family Quotes
How does your child participate in cooking at home? How can you support your child's interest in food?

"We listen to music in the car (radio, playlist, baby lullabies). At home, Eva plays with her activity center that has buttons for different music keys and songs. She really enjoys music. Leo sings sometimes to Eva." — Julis, Eva's mom
"Lots of listening and dancing…music is always on! So far he responds to calming music (he likes yoga chants), and don't know if he's responded to happy music yet!" — Jill, Julian's mom
"Hugh's big brother Murphy likes to sing and dance, and Hugh is always watching. Mama plays pop music on the radio on the drive to school. Hugh's favorite song is "Head, Shoulders, Knees, and Toes." It makes him smile every time! " — Katie, Hugh's mom
Featured Videos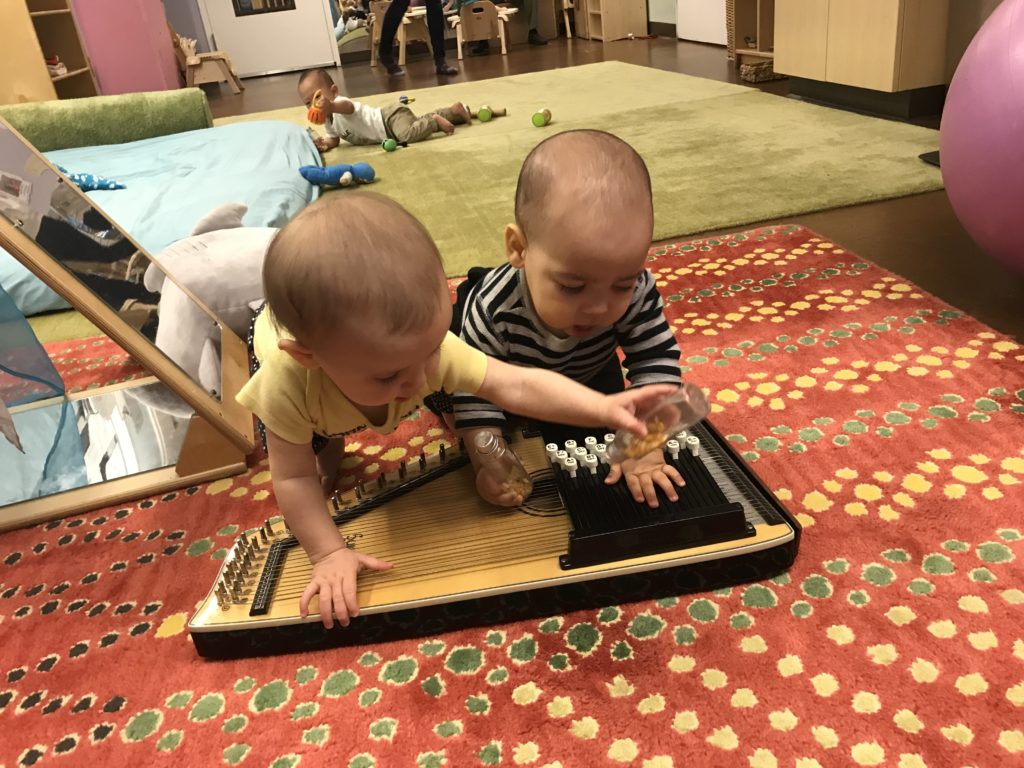 Items brought into the classroom in line with Weekly Plans
~ Keyboard/soundboard
~ Guitar
~ Auto-harp
~ Flutes/recorders and harmonica
~ Guitar
~ Shakers and bells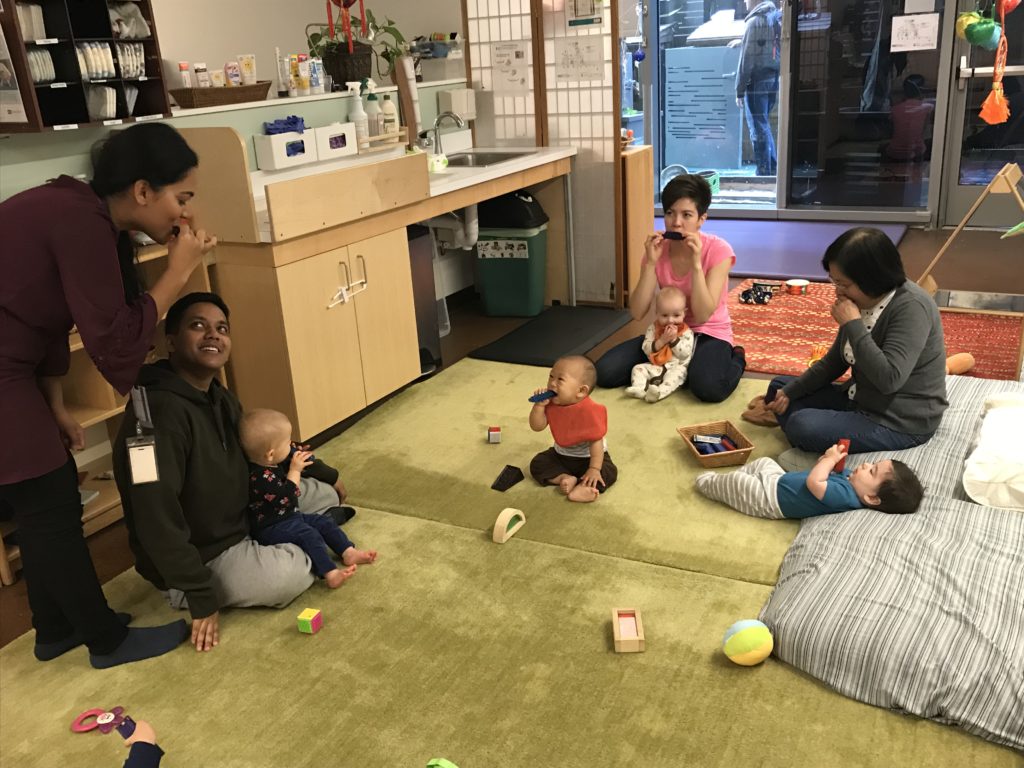 What families did at home to continue and extend the explorations and projects at school
~ They played Music Together songs at home and attended weekly music together gatherings.
~ They visited to the Library for song and dance
~ They explored musical instruments at home
~ They came in to play instruments and/or sing with the children. v  Parents volunteered to go on a fieldtrip
Public Demonstrations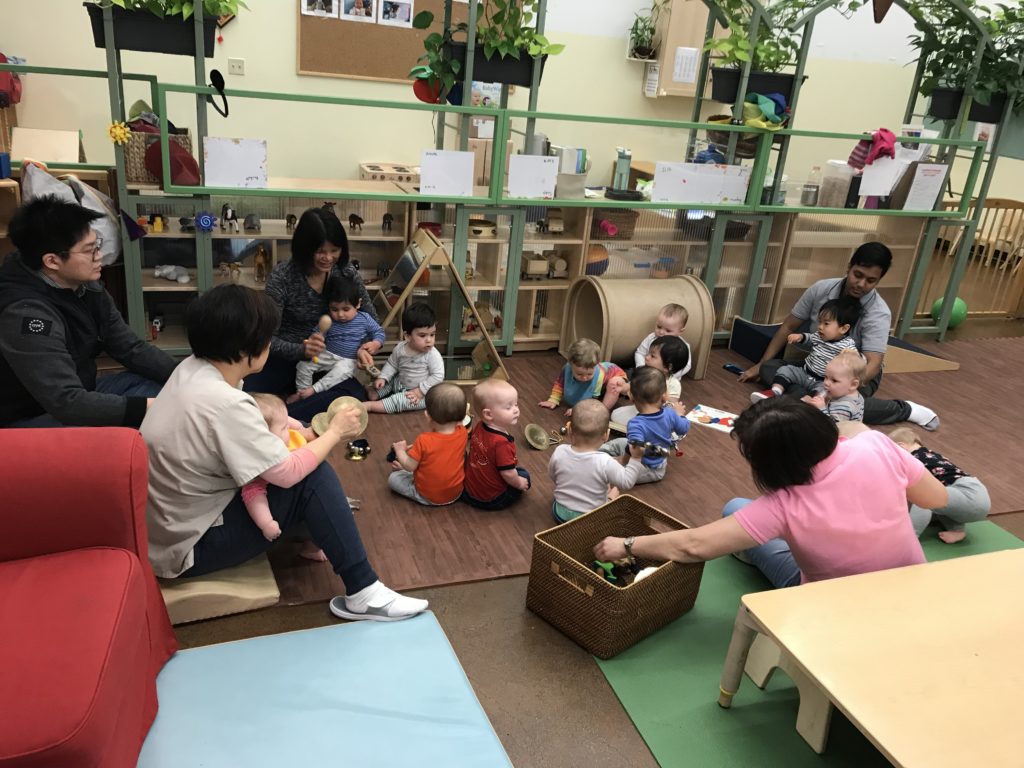 Babbling Brook Classroom The Caterpillars "Musical Instruments" at the SF Center Cafe, May 3rd at 3:30 pm – 4:30 pm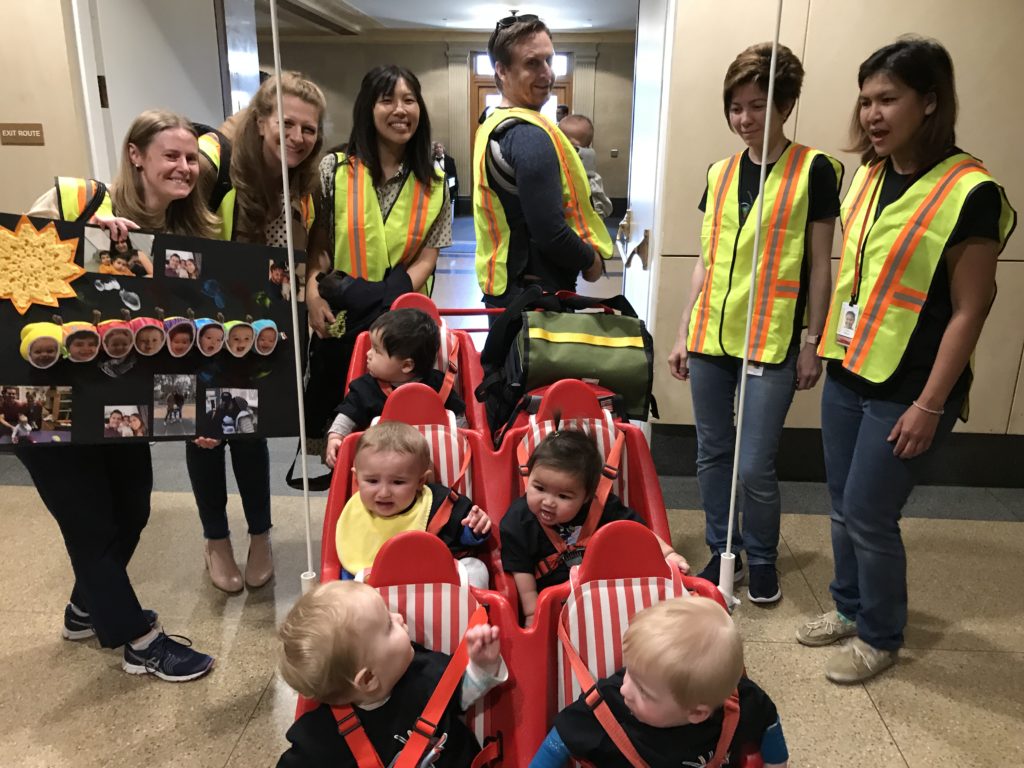 Our Annual Festival of Learning Ribbon Cutting Ceremony that opens the festival is held each year on May 1st, typically, from 9:30–10:00 a.m. in the Great Hall of the Ronald M. George State Office Complex at 455 Golden Gate Avenue in San Francisco.
"The Caterpillars" have been preparing for the Ribbon Cutting Ceremony for weeks during their other daily explorations, expressions, group bonding, and other amazing adventures, a few of which are represented elsewhere in their area on this website.
The teachers and parents will also document the group's participation in the ceremony. Much of that information, including statistics about the participants, photos, and videos, will be available on a page linking from this one soon after the ceremony is over on the morning of May 1, 2019″